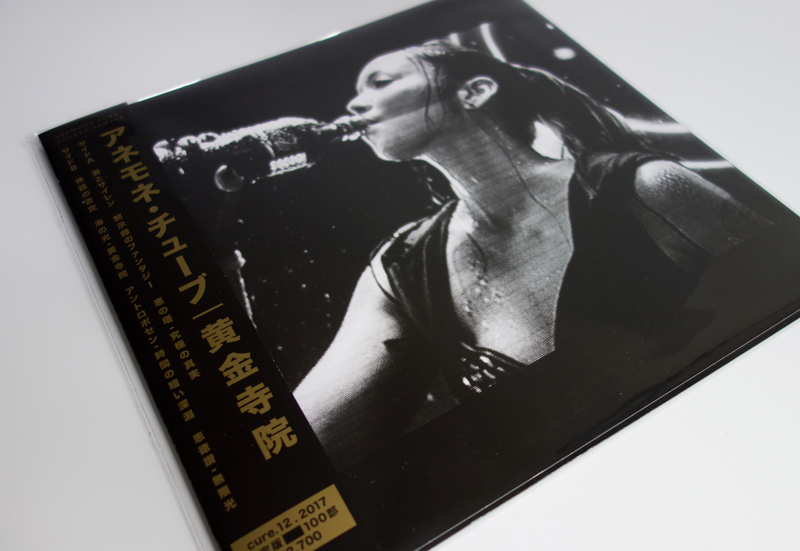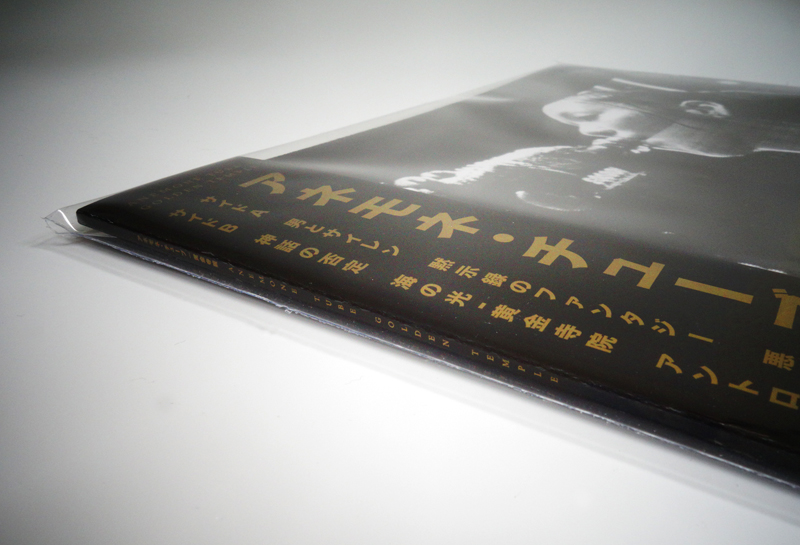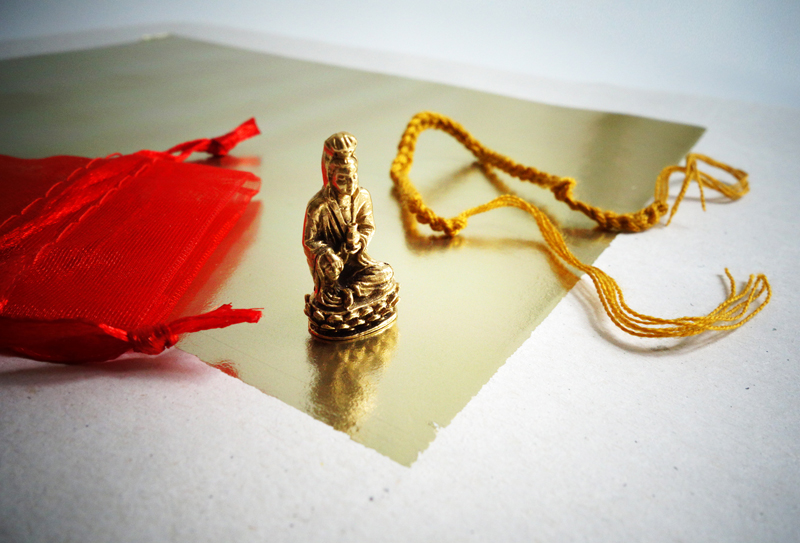 ANEMONE TUBE "GOLDEN TEMPLE" Special Japan edition 12" LP
The Epicurean . cure.12
22,- Euro
36,- Euro (as LP bundle with "In The Vortex" LP)
Pre order here: 
http://the-epicurean.transformed.de/shop.html
Release date: 26 July 2017
Format: 12" LP & download
Playtime: 39 min
Packaging: "Golden Temple" special Japan edition 12" LP comes in golden/black cover, printed on 350g image paper with Japanese obi strip, a golden miniature bodhisattva statue, a golden ribbon for refuge in a small red cloth bag and a golden joss paper ("hell money" to be burned at funerals as an offering for the deceased to ensure a fortunate rebirth) with a poem.
Limited edition: 100 copies, hand-numbered. LP version comes with exclusive track "Ondokusan (The Infinitive Light)", not included on the CD.
_
REVIEWS
"The album is as dark as the large intestine of the devil. Aggressive and fluctuating, mysterious (...)."
Rating: 9,25 of 10
– Mentenebre
"At this moment you can hardly find anything better in history of industrial/noise."
Rating: 9,5 of 10
– Dark Entries
"Golden Temple is definitely Anemone Tube's strongest release to date."
– Heathen Harvest
"Certainty one of the most authentic industrial releases in recent decades."
– Darkroom
"Anemone Tube have distinctive and individual sound which is essentially without comparison (…an equilibrium of structure & chaos and a balancing of harmony & disharmony). This album has been long awaited and is a veritable feast for the eye, ear and mind (...)"
– Noise Receptor
"Zweifellos das stimmigste und reifeste Album des Künstlers - close to perfection!"
– Nonpop
" (...) das immer etwas links klingende Wort Antikapitalismus und das immer etwas rechts klingende Wort Antimodernismus wurden selten so sehr überblendet, wie auf diesem an Andeutungen und Anspielungen reichen Album, das den Geist Pasolinis wie ein Kontrastmittel über die Goldenen Tempel unserer Zeit gießt – und damit selbst die namenlose saufende Schönheit zu Füßen der Kolosses aus Glas und Beton zum Strahlen bringt."
– African Paper
More information: 
http://the-epicurean.transformed.de/theepicurean.html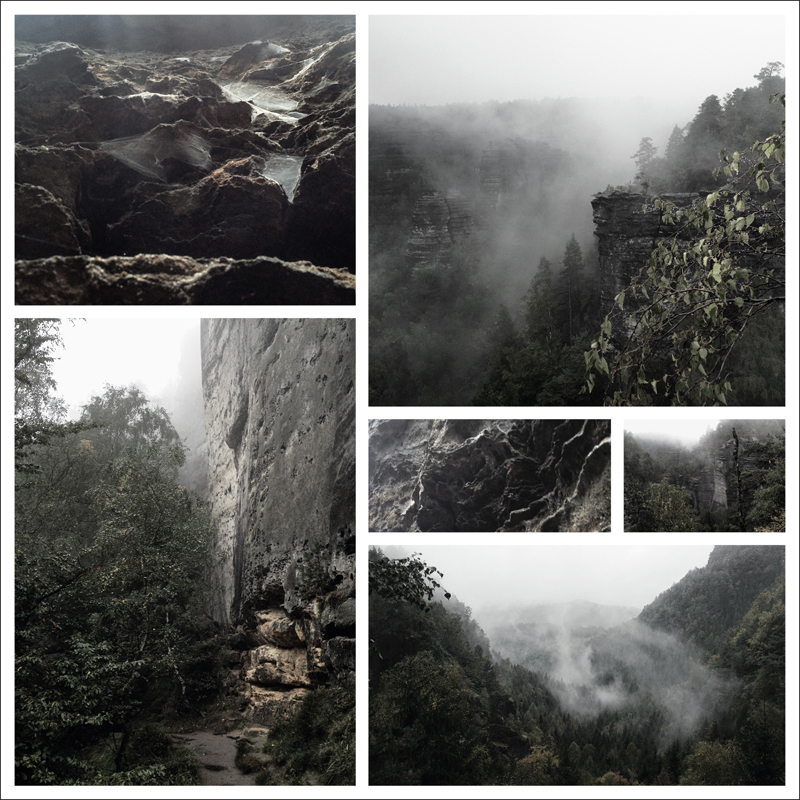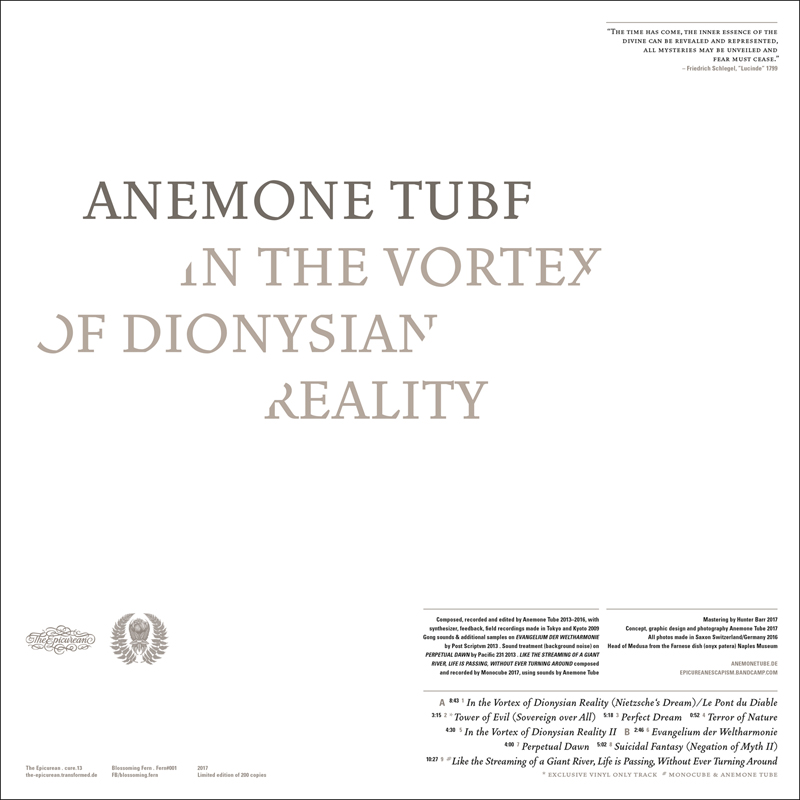 ANEMONE TUBE "IN THE VORTEX OF DIONYSIAN REALITY" 12" LP
The Epicurean . cure.13
17,50,- Euro
36,- Euro (as LP bundle with "Golden Temple" LP)
Pre order here: 
http://the-epicurean.transformed.de/shop.html
Release date: 26 July 2017
Format: 12" LP & download
Playtime: 44:57 min
Packaging: Black vinyl, full color cover with 3 mm spine printed on high quality natural paper.
Limited edition: 200 copies. LP comes with different design than CD version and exclusive track "Tower of Evil (Sovereign Over All)".
Related to Nietzsche`s notion of the Wagnerian music drama as a revelation of the abysmal truth about man, "In the Vortex of Dionysian Reality" allures us into the Dionysian dreamland, where tragedy reigns, in pursuit of the ultimate oneness. With its washes of noise and layers of piercing feedback on a subbase of wavering synths, it is a maelstrom of sound generating a hallucinatory reality. The atmosphere oscillates between destructiveness and aggravating frenzy, between the archaic and the sacral, between frenzied passion and abyssal melancholy, serving the mythical experience of music in a world where language has failed as a method of communication and music figures as the primordial form of expression.
As he considers humanities to have reached their limit, young Nietzsche hopes to find ultimate spiritualization and idealization in the reborn myth. Music alone ("our German masters"), as the primeval form of poetry and revelation of true Dionysian wisdom, may achieve triumph over the Apollonian shallow world of apparition.
With his timely musical rendition of mythical experience as "In the Vortex of Dionysian Reality", Anemone Tube conveys an emotionally and mentally charged album which reveals his soft spot for progressive post rock metal acts like O.L.D. /JAMES PLOTKIN, AMUSEMENT PARKS ON FIRE or BLUT AUS NORD. Their special approach of dreamy melodies vs. atonal, discordant sounds is skillfully recreated through polyphonic synths lines, which are then modulated into feedback and added for good measure.
Carrying the same title as the 2015 cassette EP release on The Epicurean, this CD with its 40+ minutes total length and five all new, yet unreleased tracks is less a mere re-release, but rather a full stand-alone album, featuring Ukrainian dark ambient artist MONOCUBE on one track, as well as including sounds by Russian avantgardists POST SCRIPTVM and sound processing by French sound artist PACIFIC 231. 
_
REVIEWS
"Anemone Tube has been synonymous with the very highest quality of conceptually hyper charged drone ambient. 'In the Vortex of Dionysian Reality' only adds more to this setting high of the bar to new standards of intensity and passionate processing of sound in supremely and astutely philosophical realms."
– Vital Weekly
"Some of Anemone Tube's strongest work to date."
– Noise Receptor
"Shoegaziges Rauschen und melancholische Schönheit."
– African Paper
"It is built with so many different tonal changes and distortions that no matter what you choose to get out of it (...), you will be able to experience something unique."
– Resounding Footsteps 
More information: 
http://the-epicurean.transformed.de/theepicurean.html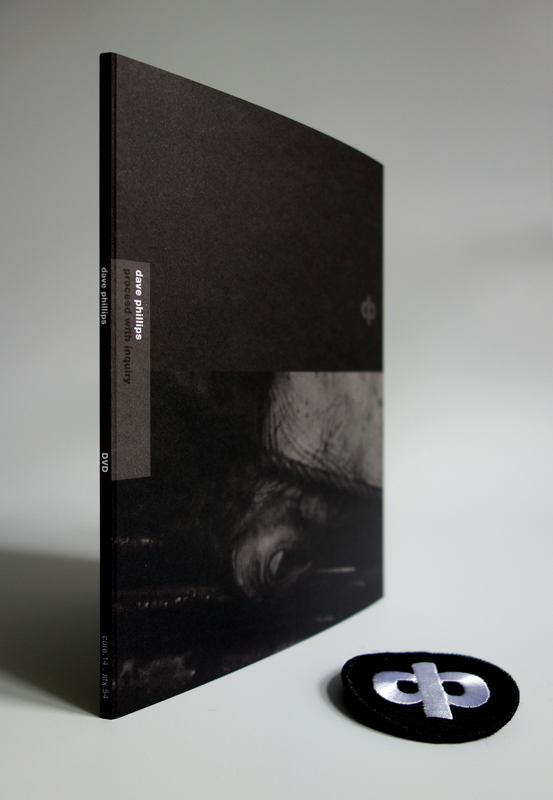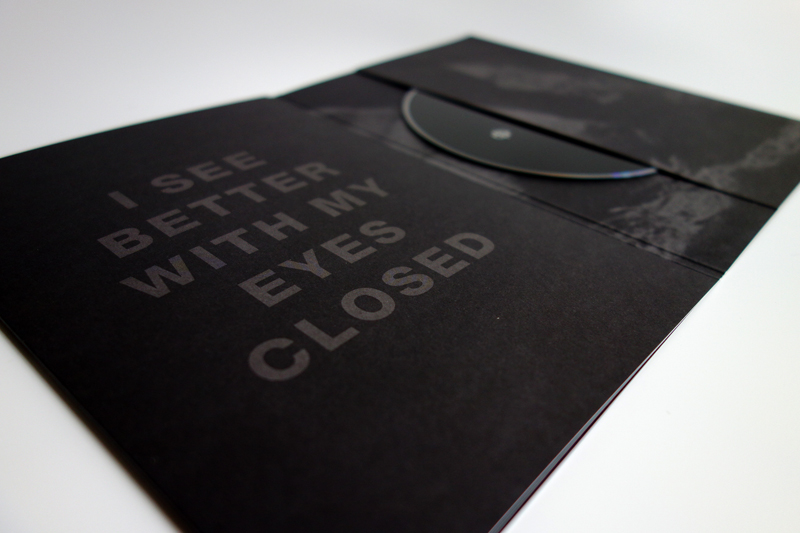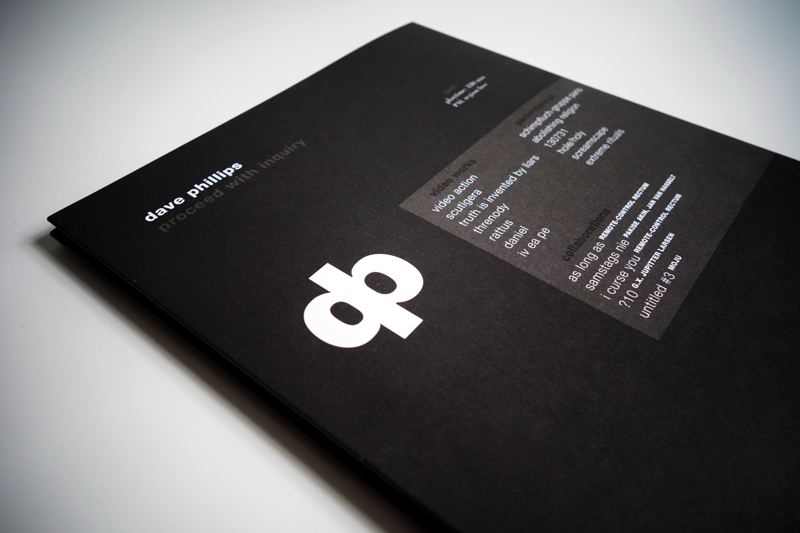 DAVE PHILLIPS "PROCEED WITH INQUIRY" DVD
The Epicurean . cure.14
13,- Euro
Order here: 
http://the-epicurean.transformed.de/shop.html
Release date: 1 July 2017
Format: DVD, Region free PAL
Playtime: approx. 180 min
Packaging: 190x130 mm size, 6 panel digifile high quality natural paper. Includes stitched patch with dp logo.
Limited edition: 250 copies
PROCEED WITH INQUIRY comprises video works, live performances and collaborations by radical Swiss sound artist DAVE PHILLIPS, sonically active since 1987, part of the notorious SCHIMPFLUCH GRUPPE (with Rudolf Eb.er, Joke Lanz) since 1991, having left his signature in numerous bands, projects and collaborations.
DAVE PHILLIPS uses sound as a means to activate primordial emotions otherwise hidden underneath the debris of civilization. His concept is called "Humanimalism" accordingly, meaning a state of mind that overcomes religious, material und supremacist charges of evolution, acknowledges itself as part of a whole and has grown into an empathic, conscious and connected creature allowing emotion and instinct their equal part in decision-making.
This collection presents his multifaceted work in composition, performance, psycho-acoustics, sonic rituals, voice, video, field recordings, objects and electronics, etc. in a yet unknown complexity and coherence of motion pictures. His performance work is revealed in all its undiluted brutality, the urgency and topicality of his work and his message is clearly evident, captivating and intensely documented.
Along with DAVE PHILLIPS' video works created between 2014 and 2016, the DVD is a document of unique solo live actions and the notorious Paris 1996 performance of SCHIMPFLUCH-GRUPPE, as well as recent collaborations with G.X. JUPITTER LARSEN, and video artists PAKISE AKIN, JAN VAN HASSELT and REMOTE-CONTROL RECTUM, who in turn created their visual interpretations of PHILLIPS' audio works. It all amounts to a mind-expanding experience, playing with altered perception and throwing back the viewer onto his own vision.
_
REVIEWS
"Dave Phillips' work is refreshing in its directness, solid conceptual framing and and immediacy of its impact."
– Noise Receptor
"Proceed With Inquiry vermittelt einen außerordentlich abwechslungsreichen und vielschichtigen Überblick über das Werk eines Künstlers, der eine klare  Botschaft hat und mit der Art, wie er sie bisweilen an den Mann und/oder die Frau bringt, durchaus zu polarisieren weiß."
– Nonpop
More information: 
http://the-epicurean.transformed.de/theepicurean.html